Provider Bio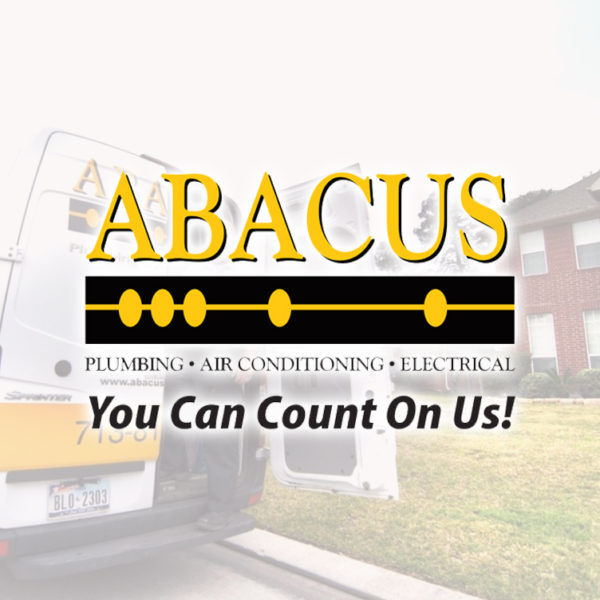 Abacus Plumbing
(281) 730-8250
Abacus Plumbing
Abacus, The Name Trusted for Residential Plumbing and Commercial Plumbing
Abacus Expert Guest Appearance On The Check A Pro Radio Show – April 2022
From a slab leak detection and repair to clogged drains, cracked pipes, and more, Abacus Plumbing is the one and only plumbing resource you'll ever need. Our plumbing trucks are stocked with thousands of parts, meaning we're ready to fix any issue in a single day. All Abacus plumbers are highly trained and state-licensed, and their customer service skills will meet or exceed your expectations.
In Case of a Plumbing Emergency
With Abacus Plumbing, you'll get priority 24-hour plumbing emergency service, day or night, 365 days a year.
Our Local Houston Plumbers will repair, install, or replace all of the following, and more:
Water Heaters
Water heater installations and repairs are our specialties. We install and maintain standard tank water heaters as well as tankless water heaters. Do you need a new water heater? Our customer service staff can help you find the unit that best suits your usage requirements, space constraints, and budget.
General Plumbing Repairs
Abacus technicians are experienced in plumbing repairs for residential and commercial applications. Whether it's locating leaks, fixing broken water pipes, or clearing out drain clogs, our experienced, licensed plumbers will address all issues and restore plumbing systems to working order.
Showers and Tubs (full bath models)
Abacus plumbers install showers and bathtubs in new construction projects. We also remove old showers, bathtubs, sinks, and fixtures and install replacements. Additional Abacus shower and bathtub services include enclosure installation, shower pre-fabs, tile work, faucets, hardware, and shower head installation.
Water and Sewer Lines
Do you need new water and sewer lines? Do you need maintenance or repairs on existing water and sewer lines? Abacus crews have installed, repaired, and replaced hundreds of miles of lines over their careers. They deliver exceptional service and will ensure that water lines, drainpipes, sewer lines, and sewer pipes are clear and performing optimally.
Garbage Disposals
We install garbage disposals in new construction projects. We also install replacement units for homeowners whose disposals have broken or stopped working.
Gas Line Repairs and Gas Tests
Yes, plumbers perform gas tests and handle gas line repairs. If your home is piped for gas, a plumber is a tradesperson to call for gas appliance installations, maintenance, and repairs.
Under-slab Repairs
If you suspect a leak, drain, or sewer issue underneath your slab foundation, Abacus professionals can diagnose and fix it. Signs of broken plumbing under a slab include foundation cracks, warmth under the floor, a water bill increase, or a wet area on the floor. Leak detection equipment will isolate the issue. Our technicians will cut through the slab, fix the leak, and then repair the slab.
Electronic Leak Detection
Advances in technology have made available accurate electronic leak detectors. The leak detection unit enables a plumber to identify distinctive soundwaves emanating from a pipe with leaks. A pipe with no leaks produces a different kind of soundwave. Frequencies also vary with pipe thickness, the fluids inside a pipe, and the pressure being exerted on leaks.
Amplification of the soundwaves allows a plumber to hear the waves, analyze them, identify the leak, and come up with a course of action. With an electronic leak detector, a technician can find leaks in pipes, drains, toilets, oil pipes, steam pipes, water supply systems, and more.
Sewer Camera
Sewer cameras allow technicians to inspect sewer lines and identify blockages and breaks in the system. A tiny camera is mounted on the end of a snake and fed into the sewer line. It sends back video footage of the interior which is extremely helpful for identifying the composition of the blockages. This information helps Abacus technicians know if the blockage can be dissolved or if it needs to be blasted apart.
Yard Drains
Yard or landscaping drains carry excess water away from homes and buildings toward ditches, swales, ponds, cisterns, or streams. Yard drains are vulnerable to intrusion by silt, dirt, debris, and tree roots. Over time, buildups and blockages can occur. Abacus plumbers clear out landscaping drains so that water can run freely through them again.
Plumbing Inspections
We provide plumbing inspection services for homeowners and commercial clients. We recommend regular inspections (at least once a year) of plumbing and sewer systems to identify leaks, cracks, clogs, and areas that are vulnerable or compromised. Problems that are caught and addressed early eliminate the need for expensive repairs later. Inspections can also avert plumbing emergencies.
High-Pressure Drain Cleaning
High-pressure cleaning, also called hydro jetting, is when plumbers direct water under very high pressure into tanks or pipes. The purpose of high-pressure cleaning is to remove tough blockages like tree root masses or solidified plugs of grease and sludge. Only trained and experienced Abacus plumbers carry out this service since water under such high pressure causes severe damage if accidentally misdirected.
Repiping
In older homes and structures with deteriorating pipes and water lines, repiping is sometimes necessary. Repiping is the process of replacing old pipes with new ones. Signs that a house may need Abacus repiping services include discolored water coming out of faucets and overall water pressure problems.
Contact
Qualification
Review & Q&A